Lump-breaking units
The two powerful lump-breaking blade sets installed on Bi-Evolution Dryer® can increase the surface area of the product exposed to evaporation and the effectiveness of mixing.
The speed of rotation of the lump-breaking units is adjustable from slow to fast, based on the requirements of the process. The action of the lump-breaking units cause no mechanical stress in the treated product.
During chamber rotation, the lump-breaker group goes alternatively in and out of the product, cleaning itself when not in contact.
The lump-breaking blades not only avoid agglomerate formation but also can mill and powderize the mass during the last step of the process, limiting the subsequent use of the mill as much as possible. This leads to loose products ready to be stored or to powders with a controlled final particle size distribution.
The use of the lump-breaking units reduces the drying time, ensuring extremely low moisture levels, mainly in case of products with amorphous structure. Furthermore, they allow for the drying operation at low working temperatures, for the benefit of the purity of the most delicate, temperature-sensitive products.
The shafts of the lump-breaking units are provided with a double mechanical seal flushed with a fluid compatible with the process. This system is designed to ensure the perfect vacuum tightness and the absolute purity of the dried batch. These devices are explosion-proof.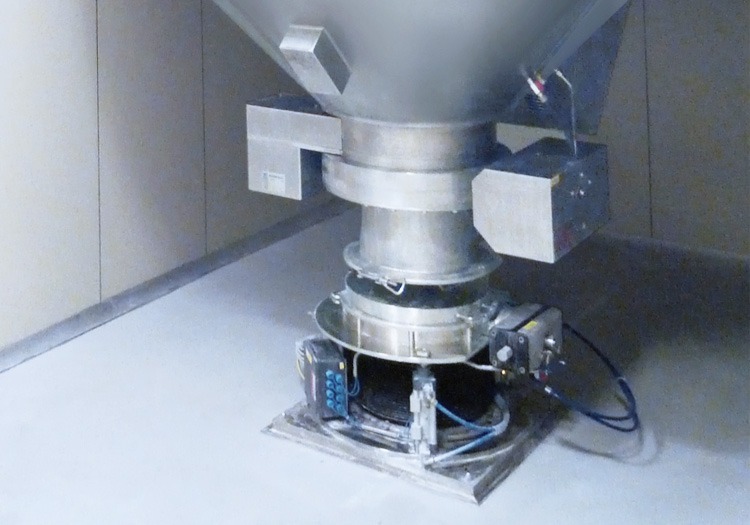 Automatic loading/unloading systems
In order to load and unload the product, Italvacuum incorporated pneumatic systems that allow for a fixed connecting position and a movable element to be connected every time to the hopper of Bi-Evolution Dryer®, hence creating a closed connection, perfectly insulated from the surrounding environment.
For each loading / unloading solution, the flexibility of the design and the specific configuration of Bi-Evolution Dryer® allows both the use of butterfly valves (standard equipment) and active or passive split valves, that are mounted directly on the dryer.
Pneumatic drum loader
To load the product, a pneumatic drum-loader is also available.
This device is directly mounted on the dryer and consists of a pneumatically-actuated moving part, able to connect the drum, containing the batch to be treated to the hopper of Bi-Evolution Dryer®.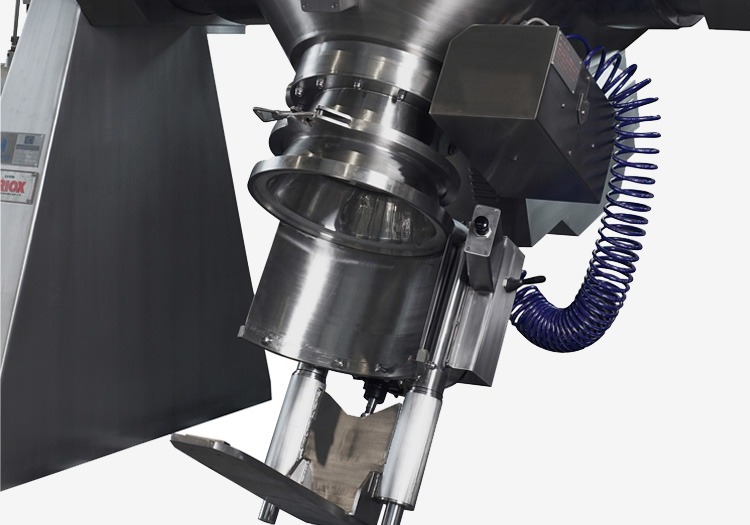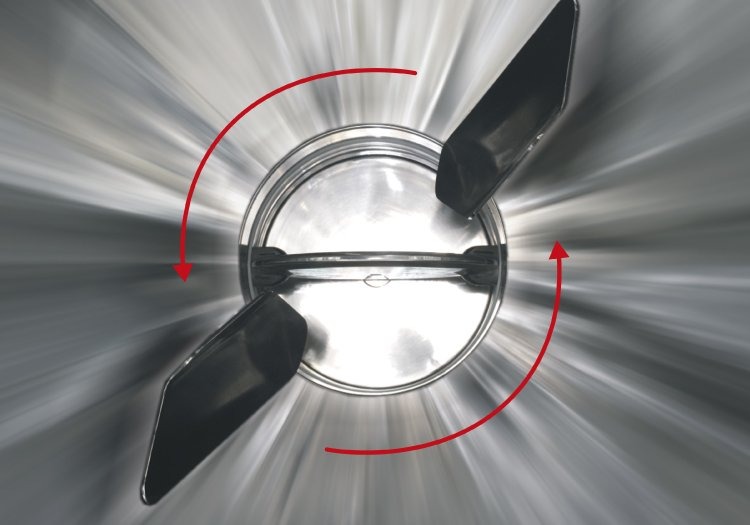 Total unloading system: "the Easy Unloading"
For products that, due to their specific properties, create bridges once dried, Italvacuum designed a special unloading device that, through its rotation, permits the total removal and extraction of poorlyflowing dried products. This device – called Easy Unloading - ensures the absolute vacuum tightness and causes no problem for internal cleaning of the dryer.
Safety filter
From the experience acquired in the optimization of the drying process, Italvacuum suggests also the use of a heated external safety cyclone filter, designed to avoid pressure losses and condensation phenomena, for a complete protection of the vacuum line.